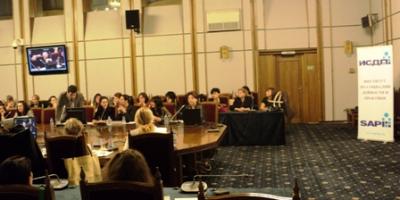 On the 28th of May 2014, the IJJO participated in the first meeting of the project 'Listen to the child – Justice befriends the child' (Feb. 2014 – Feb. 2016) in Sofia, Bulgaria.
The project is coordinated by the Social Activities and Practices Institute (SAPI) of Bulgaria and aims to improve the situations of child victims or witnesses of crime involved in legal proceedings by introducing an integrated approach towards children and based on a personalised assessment of their specific needs.
The key idea of the project is to enable a common understanding between partner countries through the exchange and analysis of good practices and gaps, which will lead to the development of an assessment model with clear and recognisable methodology, based on the best performances of each country.
The partnership is composed of the Bulgarian Pediatrics Association, the FONPC (Federation of NGOs for the Rights of the Child, Romania), IJJO (International Juvenile Justice Observatory, Belgium), "Il Fiore del deserto" (Italy) and "La Voix de l'Enfant" (France).
The target groups are professionals from criminal procedures (police, prosecutors, judges), people who take part in educational activities, professionals from the child protection system, social service providers, forensic medicine specialists and state policy makers.