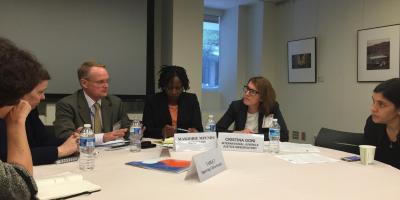 On Tuesday, October 21, the International Juvenile Justice Observatory organized Table 2 of the Knowledge Café 2 titled "Improving Public Safety through the Improvement of Juvenile Delinquency Prevention Policies and the Administration of Juvenile Justice in Latin America," as part of the World Bank's Law, Justice and Development Week which runs from October 20 – 24 at the World Bank Headquarters in Washington DC.
Adam Blackwell, Secretary of Multidimensional Security at the Organization of American States (OAS), Joan Hoffman, Senior Public Safety Investigator at the World Bank, and Cristina Goñi, Secretary General of the IJJO participated in the event, as well as other representatives.
The Latin American region is considered as one of the most dangerous regions in the world because of the number of crimes and offenses, particularly among and towards the youth. The region has experienced an important reduction in the poverty rates and an improvement in living conditions thanks in part to the constant economic growth experienced in the last decade and the strengthening of institutions that has led to the development of public policies in accordance with international standards and empirical evidence.
Nevertheless, many problems associated with crime prevention, justice administration, and public safety that affect the youth are still waiting to be properly addressed. In this sense, the main objectives of Table 2 were: i) address new trends and challenges of juvenile violence and crime in Latin America; ii) establish the key factors for improving the efficiency of public safety through policies based on evidence and the use of evaluation mechanisms; iii) address legal and institutional reforms led by governments on criminal justice policies and the administration of justice to minors and adolescents policies; iv) promote alternative methods to imprisonment and restorative practices that guarantees youth participation and community development approaches.
The LDJ Week was co-organized by the World Bank group and the International Centre for Settlement of Investment Disputes (ICSID). On one hand, it sought to address the legal dimensions of the post-2015 development agenda, and the other hand it sought to take an in-depth look at the legal, economic, and social developments of European regions.