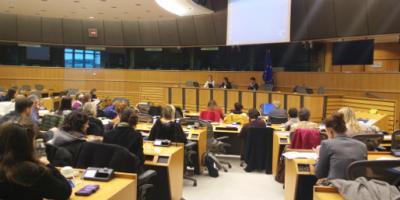 On the 27th of January 2016, the partners of the J.O.D.A. project (Juvenile Offenders Detention Alternatives in Europe) participated in the project's Final Conference at the European Parliament in Brussels, organized by the IJJO and open to the public, with representatives from juvenile justice organisations across Europe. During the Conference, experts from various EU countries discussed alternatives to deprivation of liberty for children and set out their views on articles 10 and 11 of the EU Directive on Procedural Safeguards for Children Suspected or Accused in Criminal Proceedings.
Istituto Don Calabria (Italy) coordinated the J.O.D.A. project, whose other partners were, apart from the IJJO, Kesa-Crime Prevention Foundation (Estonia), Include Youth (Northern Ireland), Defence for Children (Netherlands) and Fundación Diagrama (Spain). The main objective of the project has been to identify detention alternatives for juvenile offenders and the exchange and promotion of best practices among key actors.
The conference started with an introductory speech by Cristina Goñi, Secretary General of the IJJO, followed by Silvio Masin,Coordinator at Instituto Don Calabria, who was replacing Alessandro Padovani, Director of this institution. It was followed by a presentation by Ingrid Breit, Legal officer in DG JUST, and Ton Liefaard, Professor at Leiden University, who discussed the applicable legal framework and available safeguards regarding alternatives to juvenile detention
Subsequently, Jemina Hartshorn, Legal and policy officer at Fair Trials International, analysed article 10 of the new EU Directive, which deals with the right to liberty and alternatives to juvenile pre-trial detention. Then, Ursula Kilkelly, Professor at University College of Cork, and Kelvin Doherty, Deputy Director at the Youth Justice Agency of Northern Ireland, put forward the J.O.D.A. outputs and examined article 11 of the new EU Directive, concerning alternative measures to deprivation of liberty for children.
Cedric Foussard, IJJO Director of International Affairs, concluded the conference by precising how results of this project could facilitate the implementation of the EU directive. Then Avril Calder, President of the International Association of Youth and Family Judges and Magistrates, gave an encouraging speech, followed by Catherina Chinnici, member of the European Parliament and special rapporteur on the Directive on Procedural Safeguards for Children Suspected or Accused in Criminal Proceedings, who gave very interesting remarks on the text and closed the conference
Prior to this public event at the European Parliament, project partners and national experts had met during a training session animated by Shaddy Mirza and Hannelies Hendriks, where the project results where presented. The project ended with the production of four national reports on alternatives to deprivation of liberty, followed by five national snapshots on alternative mechanisms, as well as an online training course which was run in the IJJO's International School of Juvenile Justice, and a Manual of good practice which was extremely well received by participants.
This initiative is funded by the Criminal Justice Programme of the European Union.