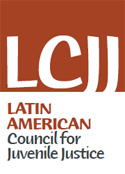 Recognising that the phenomenon of juvenile delinquency is a current and worrying issue in central and Latin America, the IJJO has a particular interest in working to provide coordinated and efficient solutions which contribute to reducing delinquency in this region and above all to promote the integral development of minors and young people of this society and encouraging social inclusion.
With the aim of developing their most relevant objectives and activities, the LJJO includes within its structure the Latin American Council for Juvenile Justice as an organ for meetings, debate and analysis, always acting under the management of the Administrative Council of the LJJO. Amongst its activities the Latin American Council for Juvenile Justice focuses on preparing recommendations on the development and evolution of juvenile justice in the region of Latin America, and the compilation of quantitative and qualitative information on the situation of children, adolescents and young people in conflict with the law.
The Latin American Council brings together representatives of public administration working in the field of juvenile justice, universities and academic centres, and non-governmental organisations with experience in legislation, application, supervision, research and/or intervention in juvenile justice. The objective is to propose coordinated action between the representatives of these three sectors to compile reports, proposals and developing projects.
It is important to remember that the IJJO is highly interested in using instruments to promote sustainable collaboration and coordination between all parties and agents involved in the development of juvenile justice policies for the social integration of young people and minors in conflict with the law throughout Latin American and the world. The IJJO strategy throughout its meetings and the work of the Council is to promote their results and decisions with the aim of guaranteeing a respect of the rights of children and adolescents in conflict with the law and in situations of social exclusion.