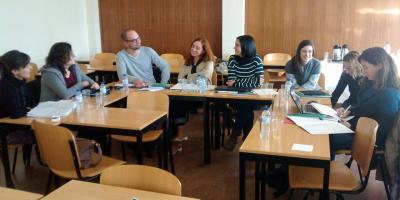 The Second Steering Group Meeting of the EU Project 'MIPREDET – Analysis of procedures and conditions of minor's pre-trial detention', in which the IJJO participated as partner, took place on the 3rd and 4th of February in Oporto. This meeting was an opportunity for the project partners to present their analysis on the scope of application of pre-trial detention concerning children in their countries.
The partners also discussed the rights of these children in regard to the EU Directive proposal 2013/0408 on procedural safeguards for children suspected or accused in criminal proceedings, which was approved on December 2015 and should enter into force in 2016.
The MIPREDET project is led by Fundación Diagrama (Spain). Other partners, apart for the International Juvenile Justice Observatory, include the Universidade Católica do Porto (Portugal), Association Diagrama (France) and Istituto Don Calabria (Italy).
Ms Adélaïde Vanhove, EU Policy Officer, presented a report drafted by IJJO on Children in Pre-trial detention in the 28 EU MS, which focuses on the legal framework and procedural safeguards regarding the pre and post charge stages of children's pre-trial detention.
A discussion on the next steps of the project followed these presentations, and focused in particular on the framework and outline of the interviews that partners will have to conduct with stakeholders and professionals who specialise in pre trial detention and on the rights of untried children, which will take place in the next months to complete their national analysis.
During the second part of the project, the IJJO will be in charge of providing a comparative analysis of the national reports and in particular of evaluating whether the EU Directive recommendations are being followed in the partner's countries and identifying the eventual obstacles that could impede its implementation.