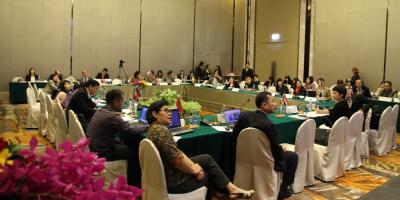 On September 2nd and 3rd, a meeting was held in Bangkok between representatives from eight Ministries of Justice from the Association of Southeast Asian Nations (ASEAN), as part of the agenda of the IJJO's Asia-Pacific Council for Juvenile Justice. The meeting, organized by the IJJO and the Department of Juvenile Observation and Protection (DJOP, a subdivision of Thailand's Ministry of Justice), served to exchange knowledge and experiences, share proper practices, and propose improvements for the treatment of children in conflict with the law in their respective countries.
During the meeting, experts discussed how to ensure that these individuals receive essential services, as well as how to address the lack of freedom in neighboring states in accordance with international legal framework. This initial dialogue is part of a progressively developing collaboration between member states in the context of opening borders. In this context, the meeting led to a necessary interchange about difficulties relating to judicial cooperation within ASEAN, as well as topics relative to the prevention, legislative reform, specialization of the juvenile justice system, drug-related crimes, detention conditions, and alternatives to deprivation of liberty.
This meeting focused on the idea of cooperation, specifically, working together to create a Council of Juvenile Justice for ASEAN in order to develop concrete, specific agenda for juvenile justice in Southeast Asia (the countries that make up the ASEAN are Indonesia, Malaysia, the Philippines, Singapore, Thailand, Brunei, Vietnam, Laos, Burma and Cambodia). The Council would operate under the auspices of the Asia Pacific Council for Juvenile Justice (APCJJ), an advisory body of the IJJO, and may be made official in the coming months.
The first meeting of the APCJJ, organized in Bangkok in 2012 by the IJJO and the DJOP, represented a milestone for the development of reform initiatives to protect children in conflict with the law in the Asian-Pacific region. The regional report, 'A voice for the future of Juvenile Justice in Asia-Pacific', published in 2013, presented key points from the first meeting of the APCJJ, as well as the priorities for action that were identified by the member states represented at the summit.
Thanks to this collaboration, IJJO and DJOP had the opportunity to generate a dialogue and fruitful exchange of ideas and experiences among those in charge of juvenile justice in the Asian-Pacific region. This marks an important step towards the creation of a sound network of experts working to improve juvenile justice systems in the region.
The principal conclusions of the meeting will be published shortly and will establish the priorities that participants of the next APCJJ meeting should keep in mind. The IJJO will organize the meeting in 2015, to be hosted by the Department of Juvenile Observation and Protection of the Thailand Ministry of Justice.